Medicine must only be sold by state-licenced pharmacies and drug stores according to the National Drug Policy Act. Still, small businesses are found in great amount in even the smallest village and drug peddlers – sales men travelling from place to place selling medicines – ply the streets across Sierra Leone and much of West Africa.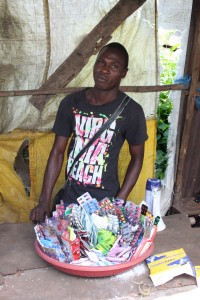 The young man has been selling medicine for several years: "Medicine is my family thing. My mother, father and even my little brother all sell medicine. I don't know why. We could have sold other items, but for many years it has been medicine and now business is good. We also have good knowledge and you can easy get a cheap cure or painkiller."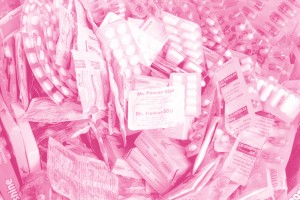 In the plastic bowel you can find anything from antibiotic chloramphenicol capsules to ferrous for anaemia or NSAID's for pain relief. You can freely choose between colour and size as the medicines are sold without the original packages. You are also free to choose the dosage you want to buy. This makes the trading beneficial for those who cannot afford a whole treatment at once.
Drug peddling constitutes a serious problem. Much of the medicines are either counterfeit or substandard. However, with half of the Sierra Leonean population living below the poverty line, the peddlers are an important source to otherwise unaffordable medicines.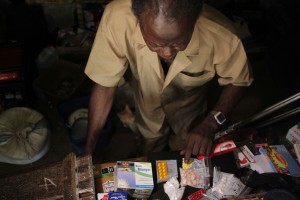 Next to a hospital entrance, a shop owner sells medicines from his small street shop. In addition to pain killers, antibiotics and Viagra you can also find a variety of Chinese medicines including remedies to increase your sex drive or improve your appetite. Most drugs are procured in whole packs from bigger drug stores and sold individually down to a single tablet. One may wonder why people choose to buy medicines here instead of from the hospital. However, a visit to the hospital will most likely take a whole day whereas here, drugs can conveniently be bought while purchasing other everyday necessaries. Also, many costumers find the shop owner more pleasant than the hospital doctors with a rumour of being harsh and busy.