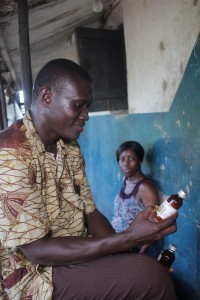 Tolo and Fatmata live in a small village in Tonkolilli together with their five children including two adopted. Besides Tolo's job as a teacher at the local school, the couple run a small business with commodities like food items, flashlights, batteries, and cigarettes.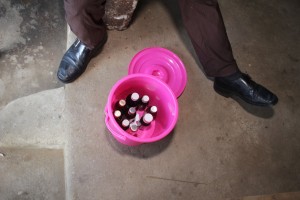 In their house they have a pink plastic bucket with syrups for their youngest daughter, Jaseline, aged 16 months. The bucket contains different broad-spectrum antibiotics including amoxicillin and metronidazole, painkillers and blood tonic.
"It is almost every month that she has a small cough, but not every month that we have to use these medicines for her. Often when she is starting to cough, we give her a spoon of the syrup. After two-three days she is no longer coughing and we stop again" (Tolo, teacher and shop owner)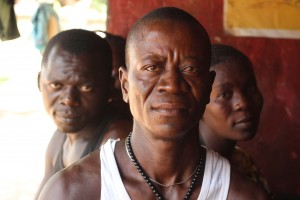 Kappr is working as a compound gardener at an NGO run school. When not on call he is supporting the family by growing crops at the nearby village. He is the only one in the family having a paid job, but they manage to send their children to school and keep a small but descent house.
"Usually we only buy medicine, when someone is sick. Often we have more tablets left when we are feeling well again, so sometimes we have a small bag in the house with leftovers. My mother has leprosy and the community gave us some painkillers if her fingers start hurting. For now she is all right, but the pain could come back" (Kappr, gardener)