The District Medical Store (DMS) is responsible for serving the district of Tonkolilli, which covers 7,000 km2 and inhabits approximately 400,000 people. The DMS supplies Magburaka Government Hospital, 13 Community Health Centres (CHC), 12 Community Health Posts (CHP) and 79 Mother-Child-Health-Post (MCHP).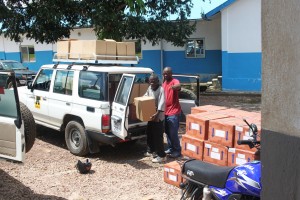 All the receiving health units report quarterly on usage and demands. The DMS then supplies essential medicines and other commodities for the forthcoming three months. However, according to storekeeper, Mr. Turay the system is not bullet proof:
"We have everything they need, but sometimes it is difficult to act fast. We need to get good reports from the units before we can send the next supply. Sometimes they fail to make the reports and then we have to use some of our buffer stock to meet the demands from the health units"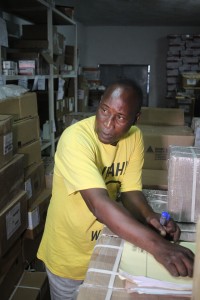 A small fraction of the supply system is digitalised and the manual reporting is challenging for the often less literate health personal working in the units. The challenge of forecasting and reporting the need of supplies is visible. Stacks of unused condoms and Plumpy'Nut nutrition take up the floors in the warehouse. At the same time the demand for vaccines, malaria treatment and antibiotics is unmet.
According to WHO there has been a huge investment in drug and medical products procurement with regards to access to affordable medicine and health technologies in Sierra Leone, especially since 2010. Huge sums of money have been spent on procurement of cost recovery drugs and the Free Health Care Initiative (FHI). FHI was initiated to secure access to essential medicines for pregnant women, breastfeeding mothers and children under five. Even though progress have been made there is still room for improvement as documentation of drug use is inadequate and the logistical management systems are weak. Also, the government medical stores face a number of challenges, including shortage of qualified staff and logistics, inadequate funding, lack of national regulation systems, inadequate storage facilities, and the existence of parallel supply systems.